The Complete Health & Fitness Solution In One

Power Plate is a multi-functional, full body training tool that provides everything for PT, Small Group Training or a self-led workout in the same spot. Members can do everything on Power Plate, for an effective solution to warm up, work out and recover all-in-one.
A profound wellness, performance and healing tool, Power Plate is unique. It is also a certified medical device, which offers precise and patented technology for everyday health and fitness. The technology uses a vibrating platform which moves 25 to 50 time per second. The vibrations are harmonic (safe for human health), consistent and controlled. These vibrations are tri-planar
(move up and down, front to back, and side to side) and mimic real-world movement and exercise dynamics. It elicits rapid neuromuscular, circulatory and lymphatic response which accelerates the result of any movement traditionally done on the floor.
Improve your member journey with a Power Plate destination. Activate this area to add variety and differentiation to the gym floor by appealing to all ages, abilities and training styles. Enable trainers to drive both member engagement and results with a dedicated destination that really delivers the feel-good factor. Power Plate is a 'one stop shop' to get members in and out quicker, with faster, whole-body results.
The Power Plate Difference



No other fitness equipment brand in the world has earned these 3 combined medical accreditations;


Power Plate is a Class 1 US
FDA-registered device.
Power Plate is the only device of its kind to have achieved Non-Exercise Activity Thermogenesis (NEAT) certification from the Mayo Clinic.
Power Plate branded products have received Class II A
MDD Certification in Europe. Power Plate is one of the few medical/fitness devices that have been awarded this certification.
Provide your information below to download our free exercise posters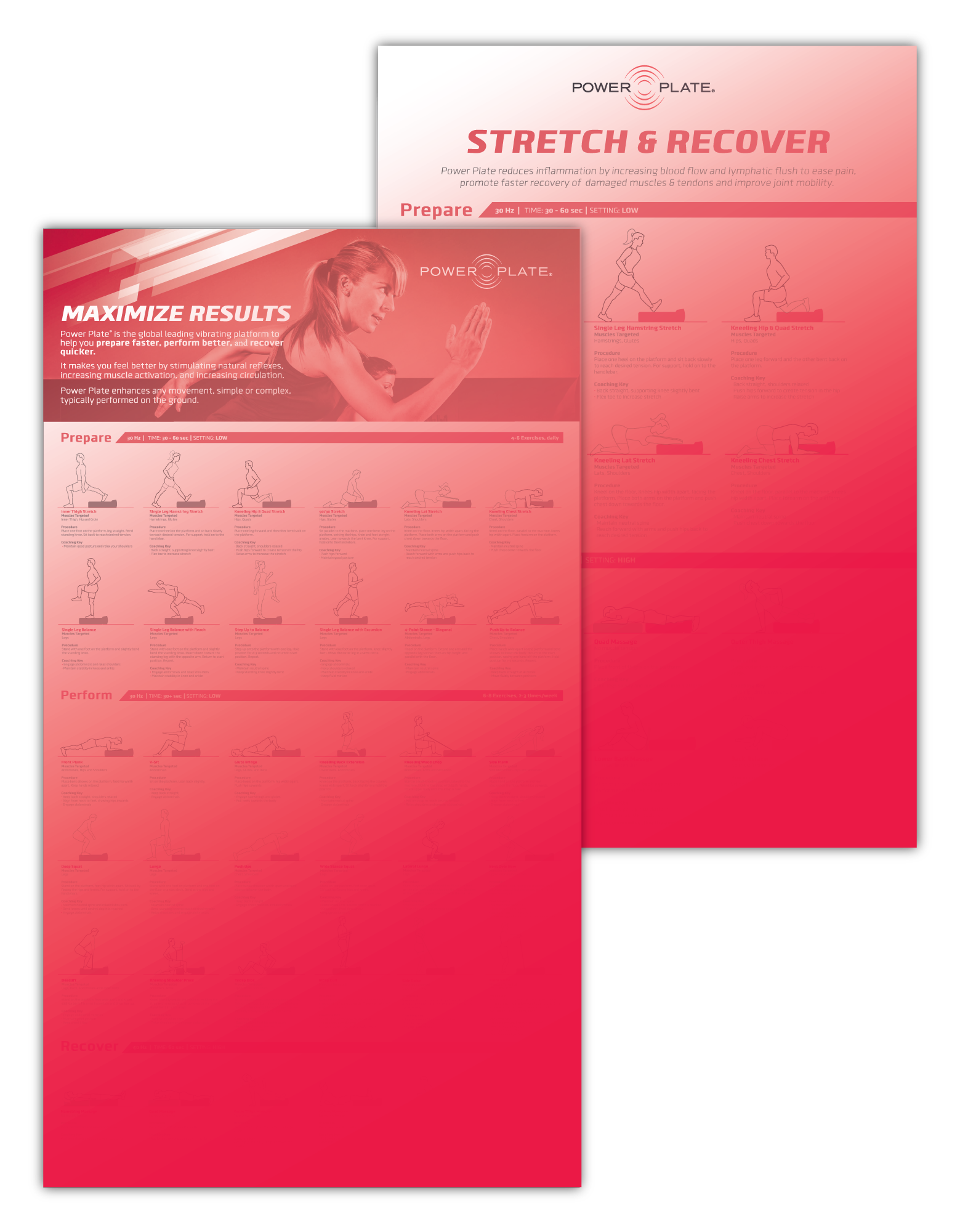 We offer a variety of exercise videos on our YouTube channel such as:
20 Minute Golf Conditioning
Upper Body Recovery Session
For additional workout videos and exercise tips, download our FREE app.
©2020 Performance Health Systems, LLC. All rights reserved.